Facilities For Hire
SAFE, HAPPY, SUCCESSFUL
Facilities For Hire
Letting and Hiring Facilities
In order to maximise the use of our facilities and resource and broaden our community involvement Winterton Community Academy has established a programme of letting our accommodation. Whether you require a venue for a sporting event, a space for meetings or for performances. Winterton Academy has a variety of spaces available to hire.
Potential hirers are able to view our facilities, discuss requirements and will be made aware of any limitations and conditions that would apply. You will be issued with the conditions of letting documentation, an application for hire of premises form and you will be advised of the hire charges (All documentation can be downloaded from this site).
All hirer's will be required to provide the academy with a copy of their Public Liability Insurance prior to any use of the facilities.
The Facilities Available to Hire Include
Sports Hall / Gym
Floodlit – All-Weather Pitch
Main Hall
ICT Suite / Classrooms
Playing Fields
Event facilities at Winterton Community Academy are available for hire to individuals or organisations. All facilities are available 5 days a week: Monday to Friday.
To book the School Facilities please contact: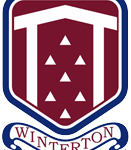 Mrs S Baker
Finance Assistant
If you have any question or queries about the hiring of our facilities, please contact us on: 01724 732777
To confirm your booking you will have to complete the application form below and indicate on the Bookings Calendar which dates you would like the facility for.
In confirming your booking you are agreeing to the full terms and conditions; see booklet below for full details.